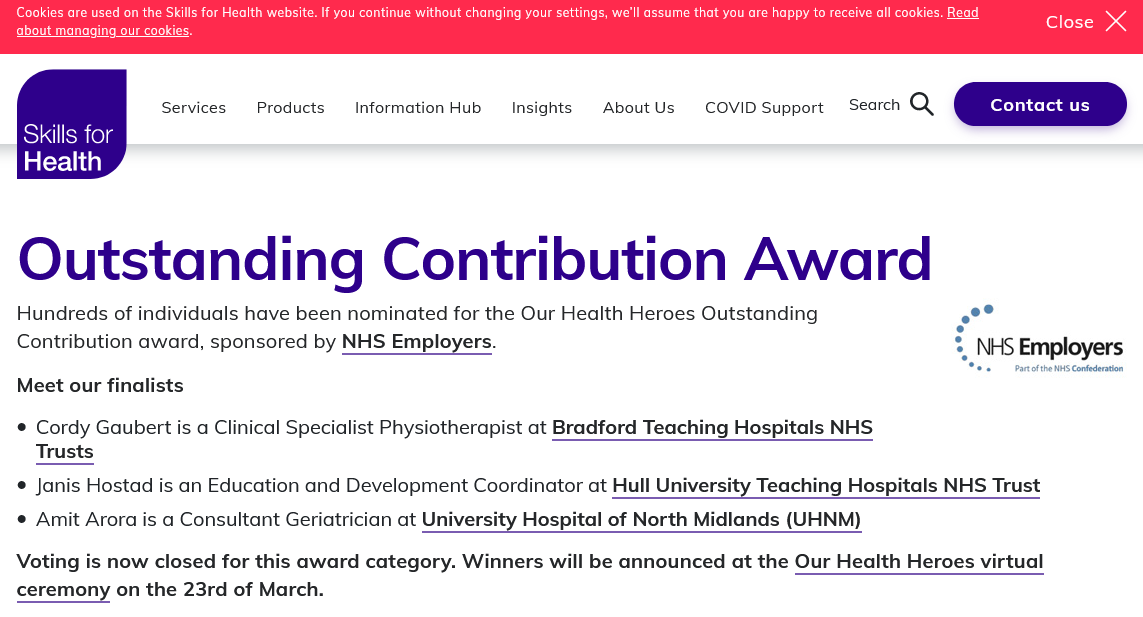 Outstanding NHS AwardsOutstanding Contribution Award | Skills for Health
Outstanding NHS Staff recognised in national Our Health Heroes Awards by Skills for Health and NHS Employers for amazing contributions.
Hundreds of individuals have been nominated for the Our Health Heroes Outstanding Contribution award, sponsored by NHS Employers.
Meet our finalists
• Cordy Gaubert is a Clinical Specialist Physiotherapist at Bradford Teaching Hospitals NHS Trusts
• Janis Hostad is an Education and Development Coordinator at Hull University Teaching Hospitals NHS Trust
• Amit Arora is a Consultant Geriatrician at University Hospital of North Midlands (UHNM)
Voting is now closed for this award category. Winners will be announced at the Our Health Heroes virtual ceremony on the 23rd of March.
How were finalists selected?
The health sector is made up of thousands of people who go above and beyond for the benefit of patient care and service delivery, and who support their peers and colleagues. Nominees for this award demonstrated an ability to act as a role model in the workplace, always encouraging those around them. These people make outstanding contributions that make a difference not only to the immediate care of individuals but also to the wider healthcare sector.
Assessment criteria
• Role model – demonstrating support for colleagues, someone who is looked up to, respected, and trusted by peers
• Patient/service focused to improve services and experiences for better patient outcomes
• Going above and beyond the call of duty demonstrating a commitment to the sector and their work
If you have any questions please email OHHAwards@skillsforhealth.org.uk