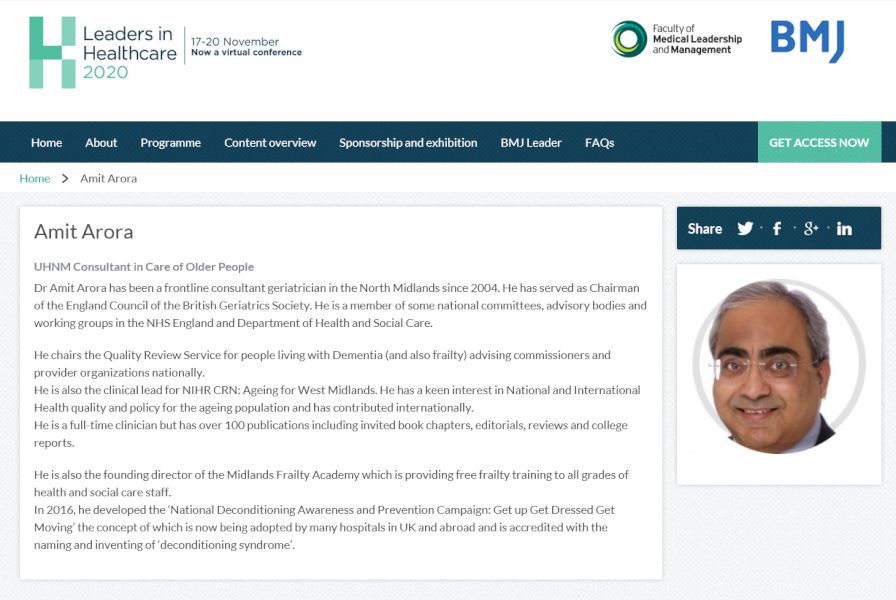 Amit Arora – UHNM Consultant in Care of Older People
Dr Amit Arora has been a frontline consultant geriatrician in the North Midlands since 2004. He has served as Chairman of the England Council of the British Geriatrics Society. He is a member of some national committees, advisory bodies and working groups in the NHS England and Department of Health and Social Care.
He chairs the Quality Review Service for people living with Dementia (and also frailty) advising commissioners and provider organizations nationally.
He is also the clinical lead for NIHR CRN: Ageing for West Midlands. He has a keen interest in National and International Health quality and policy for the ageing population and has contributed internationally.
He is a full-time clinician but has over 100 publications including invited book chapters, editorials, reviews and college reports.
He is also the founding director of the Midlands Frailty Academy which is providing free frailty training to all grades of health and social care staff.
In 2016, he developed the 'National Deconditioning Awareness and Prevention Campaign: Get up Get Dressed Get Moving' the concept of which is now being adopted by many hospitals in UK and abroad and is accredited with the naming and inventing of 'deconditioning syndrome'.