ACHIEVEMENTS
---
Stoke Consultant Wins National Research Prize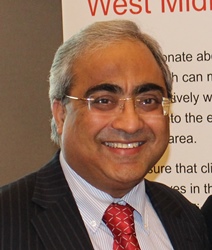 Local Stoke Consultant Wins National Research Prize
Dr Amit Arora, Consultant Physician/Geriatrician at University Hospitals of North Midlands NHS Trust is amongst the winners of the recently announced National Institute for Health Research (NIHR) Clinical Research Network Research Awards run in partnership with the Royal College of Physicians.
The awards recognise outstanding contributions of NHS consultants and trainees who are active in research.
Dr Arora who is the Clinical Research Specialty Lead for Ageing at the Clinical Research Network West Midlands, says: 'I am delighted to have been recognised for the work I have done with the Network to expand Ageing research in the region over the last year. 
"Since I have been in post, the number of participants in relevant studies has significantly increased, including a notable increase in those taking part in care homes. Collaboration between the NHS, academia and social care regionally has developed hugely. I do hope that my winning such an award will encourage many other potential researchers into becoming research active."
Applicants were required to outline their contribution to the leadership of several NIHR Clinical Research Network Portfolio studies with a particular focus on:
how they demonstrate clinical leadership enabling their organisation to increase its participation in clinical studies
how they engaged with patients to inform them of new opportunities to participate in clinical research
their contribution to successful delivery of clinical research studies, with a particular emphasis on industry (commercial contract) studies.
On the award winners, Royal College of Physicians academic vice president, Professor Margaret Johnson said:
"Founded two years ago, this award recognises the outstanding contributions of NHS clinicians to the NIHR Clinical Research Network Portfolio. The clinicians who have received this award are all worthy winners and their outstanding contribution to research within the NHS is a credit to our profession.
"In such tough times for the NHS it is great to see that such passion and dedication can still break through. I look forward to seeing their continued work and their outcomes in the years to come."
Since its inception in 2006, the NIHR has significantly increased the scale of clinical research in the NHS, particularly through the NIHR Clinical Research Network. The enthusiastic engagement of NHS physicians and trainees is essential for sustaining and building on this success, particularly given the many competing demands on clinician time and resources.
Professor Nick Lemoine, Medical Director of the NIHR Clinical Research Network said:
"The standard of entries for this year's RCP awards was extremely high. It is commendable that these consultants and trainees from across the UK are leading the way in their chosen fields and managing clinical studies that will benefit future generations of patients in the NHS."
As part of the application process the applicants had to set out how they would use the prize money to increase their contribution to NIHR Clinical Research Network Portfolio studies in the future.
Trainee award winners will be invited to attend the Royal College of Physicians new members ceremony on 27 September 2017. Consultant award winners will be invited to the Harveian Oration on 18 October 2017.